S.A.B.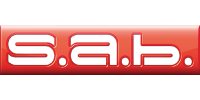 S.A.B. Serrature is formed in 1976 as a locks manufacturer who is specialized to the locks and doors accessories production.

With simple interior- and exterior locks, S.A.B has also the combination of decorative and aesthetic products with different finishes (more than 19 colors available) and valuable materials as brass and even Swarovski crystals. The functional and reliable mechanism makes S.A.B. locks high quality products for exacting customers.
Locks with Liberty and Arabic style ornaments makes your door to exclusive and decorative element in every room.
Please see the product catalogs here:

S.A.B. locks


S.A.B. decorative locks


S.A.B. cylinders